Schedule of Classroom Training -

WiFi from A-Z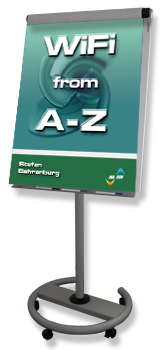 This training course focuses on a detailed description WiFi / WLAN with emphasis on PHY and MAC and addresses the needs of engineers and technicians who shall be involved with WiFi hotspots and equipment.
Following a short view on WiFi fundamentals (architecture, standards, frequency bands), the training course investigates the tasks, and the structure of the different IEEE 802.11 physical layers (1999, a, b, g).
A major focus of this WiFi training course is put on understanding and comparing the MAC functions used in the various variants of WiFi: 802.11, 11h, and 11e (QoS).
Another focus is related to security aspects e.g. ciphering, authentication, association. Both, the service provider's, as well as the user's point of view is considered (802.11,11i, and EAP authentication).
[2-day training course, Euro 1,815.- per participant or optional
2-day training course + 1 optional day trace analysis, Euro 2,420.- per participant]
We are sorry, but at the moment no open training course is scheduled. If you are interested in this training course, please contact us.
Search:
Advanced Search
---
More Info:
General Information about this course
Detailed ToC of this training course

---
INACON eBooks
Please have a look at our full offer

---