Schedule of Classroom Training -

IPv6 Hands-On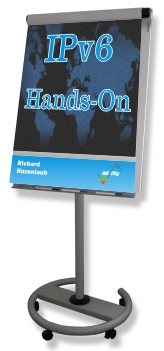 This course describes in detail the limitations of IPv4 and the changes that have been introduced with IPv6. We will start with a discussion of all IP header field elements, identify all parts that have been inherited from IPv4, clarify the terminology and explain all the new header elements, their purpose and intended usage. The IP header structure will be completed with the detailed consideration of the new concept of Extension Headers in IPv6 and the purpose and usage of each of the options. We will then thoroughly discuss the address structure of IPv6 with the formats of Unicast, Multicast and Anycast addresses and what the options are to obtain a valid IP address
... read more ...
[2-day training course, Euro 1,815.- per participant]
We are sorry, but at the moment no open training course is scheduled. If you are interested in this training course, please contact us.
Search:
Advanced Search
---
More Info:
General Information about this course
Detailed ToC of this training course

---
INACON eBooks
Please have a look at our full offer

---