SIGTRAN - Protocol Analysis & System Integration
[2-day course, Euro 2,350.- (net) per participant]
Training Course Description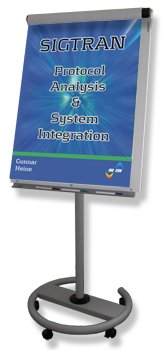 This training course addresses the needs of everybody who needs a detailed understanding of SIGTRAN.
The training course starts with an introduction to SIGTRAN and the related protocols and continues with the description of the QoS-requirements on SIGTRAN.
This part ends with a comparison of SIGTRAN and its alternatives (e.g. SIP, DIAMETER, …) on different interfaces.
The following part reviews important characteristics of the CCS7-protocol suite that SIGTRAN shall more or less replace. Focus is on SPC- and Global Title based routing procedures, SLS-based load sharing and MT-2 and MTP-3 management procedures.
The training course continues with a detailed consideration of the SCTP. Among others we evaluate in detail the SCTP association establishment and security threats for SCTP.
Special focus is on SCTP association management procedures like HEARTBEAT, RTO-calculation, data transfer and acknowledgement (SACK) and congestion control.
This part concludes with the discussion of the optimum setting of SCTP-parameters like RTO.Initial, SACK-Delay, Path.Max.Retrans or RTO.Alpha.
The next chapter evaluates in detail various important adaptation layer protocols like M2PA, M2UA, M3UA and SUA.
This part includes the discussion of the N+K-redundancy concept and the related ASP-management procedures.
The final chapter deals with SIGTRAN problems and testing. Major focus is on the discussion of SIGTRAN-operation across so called "battlefield"-networks using IPsec and through NAT's.
The training course concludes with the discussion of suitable SIGTRAN-testing procedures for vendors and operators.
Some of your questions that will be answered
How can an IP-network be reliable and secure enough in the first place to convey critical and confidential CCS7-information?
Which address information is used within and among CCS7-networks to route information between adjacent nodes and end-to-end?
Are there any means for load sharing among CCS7-links?
What is the best adaptation layer protocol for our implementation? Shall we use M2PA, M2UA, M3UA or SUA?
Which security mechanisms does SCTP support?
Which packet format and chunk types does SCTP define and what are they used for?
How does SIGTRAN mimic classical CCS7-parameters like OPC, DPC, SLS, SLR or DLR?
How does the network layout differ between classical CCS7 and SIGTRAN?
In which way does SIGTRAN provide for link supervision as CCS7-does?
Does SIGTRAN support load sharing? If yes, is it more flexible than load sharing in legacy CCS7?
In which way does SIGTRAN provide for CCS7-management procedures likes Change Over / Change Back (COO / CBD)?
Is there a link establishment procedure in SIGTRAN comparable to the CCS-link establishment procedure through SLTM / SLTA?
Which test procedures can be recommended upon SIGTRAN-commissioning?
How well does SIGTRAN operate through NAT's and NAPT's?
Can SIGTRAN operate with IPsec?
What are the optimum settings for the different SCTP-parameters like for example RTO.initial, RTO.Min and Max or HB.interval under which conditions?
What are typical error situations that SIGTRAN-enabled networks will encounter?
Who should attend this class?
Design and test engineers of SIGTRAN equipment vendors.
Engineering staff of network operators who require inside knowledge of SIGTRAN network operation (e.g. TAC II and III)
Everybody who requires detailed knowledge of SIGTRAN technology and network operation.
Pre-Requisites
Good IP-knowledge. Previous exposure to design, operation and/or level 2 maintenance of IP-networks is necessary.
Good CCS7-knowledge. Previous exposure to design, operation and/or level 2 maintenance of CCS7-networks is necessary.
Training Course Target
After the training course the student is enabled to perform sophisticated network analysis in SIGTRAN-enabled networks and to nail down typical network failures.
The student can be assigned to any SIGTRAN-related engineering task in design, test, implementation or validation projects.
Training Course Duration
v1.501

Search:
Advanced Search
---
More Info:
Detailed ToC of this training course
Schedule of this training course
Extract of this training course
Buy this book
Buy this book as eBook
---
INACON eBooks
Please have a look at our full offer

---