GSM - Signaling & Protocol Analysis
(The Core Network)
[2-day course, Euro 2,350.- (net) per participant]
Training Course Description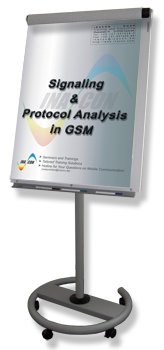 This training course addresses the needs of engineers and technicians who are already experienced in SS7, SS7-application protocols and GSM-core networks.
This part of the training course is rather dedicated to the signaling procedures among the various network elements within the GSM core network and towards outside networks.
This includes the core network procedures for CAMEL, SS- and SMS-handling.
As in all INACON training courses we integrated several interactive exercises for a perfect learning experience.
Please click here for a detailed Table of Contents (ToC)
Some of your questions that will be answered
What is CAMEL and how does it work?
How do I analyse and interpret MAP-recording files?
When and why are SCCP connection-less or connection-oriented services used by higher layers?
How and when are mobile terminating short messages transferred, if the subscriber is not reachable?
How can I use short dial codes e.g. for voicemail access even while I'm roaming?
Who should attend this class?
Operations staff of GSM-core network equipment
Design and test engineers of core network related GSM-hardware and software
Everybody who requires a detailed understanding of MAP signaling procedures
Pre-Requisites
Very good understanding of GSM networks and GSM call processing.
Detailed understanding of SS7-protocols and protocol operation.
Training Course Target
The student will be enabled to understand all important aspects of GSM core networking and GSM signaling procedures within the core network.
Training Course Duration

Search:
Advanced Search
---
More Info:
Detailed ToC of this training course
Schedule of this training course
Extract of this training course
---
INACON eBooks
Please have a look at our full offer

---