The Future of Voice Telephony
Training Course Description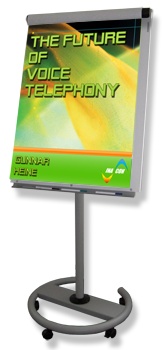 This training course or rather workshop addresses the needs of everybody who likes to get an independent view on the future of voice telephony.
In general, the course is rather focusing on business aspects than on technology but through INACON-specific teaching methodology, we are able to accommodate technical sidesteps at any time and in any depth, if required and desired.
Starting out with the presentation of current trends in voice communication, the students will review developments and trends like migration to VoIP, migration to mobile, FMC and others.
This part contains an independent evaluation of the pros and cons of UMA vs home base stations vs IMS-based solutions.
We also integrated an evaluation of the situation from the client's perspective: Which part of the population is ready for new devices, new numbering schemes and alternative telephony channels (e.g. VoIP vs Legacy, SKYPE-number or SIP-URI vs regular number)?
The course continues with an overview of the revenue gained from voice services vs data services and the recent developments in this sector. However, much more important is the consideration of the future revenue chains, interpreting and extrapolating the current directions.
The next part is dedicated to the evaluation of the SKYPE-service and its pros and cons compared to legacy telephony. This part includes a comparison of costs, resource consumption and voice quality of SKYPE vs other solutions under different conditions (e.g. at home, while roaming, etc.).
The day ends with the presentation and discussion of consequences for the different players.
Some of your questions that will be answered
Why is it so difficult to implement and sell IMS-services successfully?
What are the advantages of VoIP and why should we integrate it?
What is the form factor of telephony devices of tomorrow and the day after tomorrow?
Which impact will Android have?
Will home base stations be a niche market or the next cash cow?
Which role will UMA play?
Which role will video play in future telephony? What about other multimedia services?
Can SKYPE & Co threaten our business severely or will they always play a minor role?
Who should attend this class?
Operator staff that need to prepare for future developments in the area of voice telephony.
Technical staff who are involved in the design of future handsets.
Everybody who wants to be involved in shaping the future of telecommunication.
Pre-Requisites
The student should possess basic technical and business understanding of today's wireline and / or wireless communication technologies.
Training Course Target
After the training course, the student will be able to ...
... understand the business aspects, services and technical aspects of the new future development in the voice and telephony area.

Training Course Duration
v1.000

Search:
Advanced Search
---
More Info:
Detailed ToC of this training course
Schedule of this training course

---
INACON eBooks
Please have a look at our full offer

---